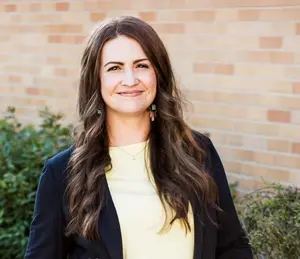 Rachel (she/her/hers)

"Safety is not the absence of threat; it is the presence of connection." – Gabor Maté
Rachel has completed degrees in business, linguistics, and operations while serving in the military. Her varied background has given her interest in the mind-body connection, how internal dialogue impacts physical and mental health, and passion to help clients uncover these areas of distress to find resolve. Your current state is not set in stone, infinite possibilities await you, and Rachel is here to collaborate with you to set your goals and find ways to accomplish them.
Rachel believes that healing can happen at any stage of life, and that all individuals possess the power and strength within to heal, grow, and live happy and fulfilled lives. Life can be overwhelming and difficult, as can creating change. It is an honor to sit with you and experience the challenge of change with you, your loved ones, or your families. Please know, all of you is welcome here – Rachel will meet you with authenticity and empathy, we all need extra support and care through certain parts of our journey.
Outside of her time spent in the clinic, Rachel can usually be found outdoors, but only after first making coffee. She enjoys camping, gardening, fishing, and hiking. Above all she enjoys spending time with her family and their dogs, cat, and chickens. If you are interested in working with Rachel, you can schedule an appointment by calling the Olson MFT Clinic at 319-368-6493.


Clinical Interests:
Individual
Couples, Partnerships, and Family
Active-Duty Service Members
Adolescents & Young Adults
Anxiety
Attachment
Depression
Discernment Counseling
Family Adjustments and Transitions
Gender Roles
Grief and Loss
Healthcare Workers
LGBTQIA+
Life Adjustments and Transitions
Maternal Mental Health
Mind/Body Connection
Paternal Mental Health
Parent-Child Relationships
Relationship Issues
Self-Identity
Self-Discovery
Trauma
Veterans